ReverseAds Blog
5 Reasons Search Falls Short in Considered Purchase Paths
November 30, 2020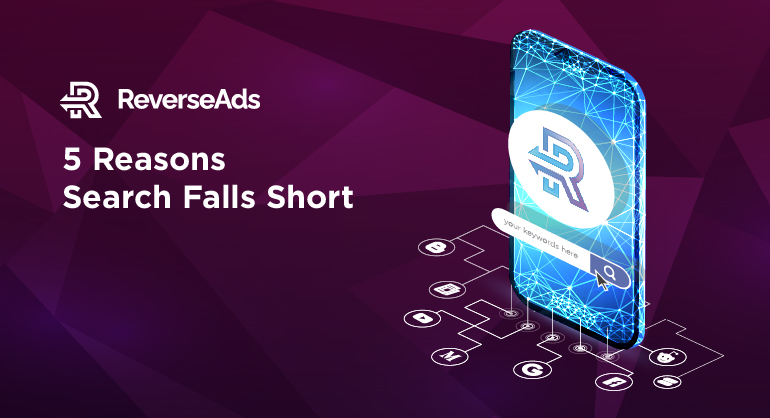 Despite how much we all love search ads, they're under-performing for many businesses while alternative solutions gain traction.
On average, 60% of advertising budgets are allocated to Google Ads1. This has solidified search ads as a staple within the digital advertising space. Search advertising spending is expected to surpass $86 billion annually by 2023, which is no surprise given the number of eyes glued to connected devices. These search ads have effectively delivered results for many businesses; however, as technology advances, sales funnels are becoming more complex.
The new buyer's journey is now a non-linear path-to-purchase full of hundreds or even thousands of touch points. This complexity is causing many businesses to reevaluate their use of search ads. Traditional search ads are under-performing when it comes to advertising products and services in considered purchase paths.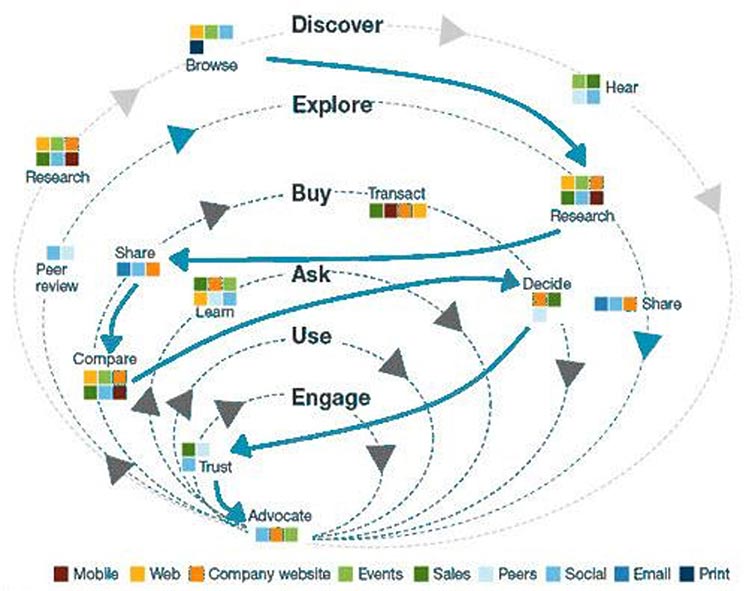 In this paper, we'll provide five strategic reasons why search is falling short and why media teams should be rethinking their search budgets — especially when it comes to considered purchase products.
1. All purchases are NOT the same: Impulse vs. Considered
When examining consumer behavior, two primary paths to purchase become clear: impulse and considered. As the name suggests, impulse purchases are carried out quickly without much time researching or comparing products. In contrast, considered purchases are conducted with more thoughtfulness and rigor for days, weeks, or months. On a granular level, no two paths to purchase are identical, which makes it the marketer's responsibility to get in front of a potential customer at their most receptive moments, and more importantly, engage with those customers at multiple touchpoints throughout their entire buyer's journey.
Search ads are quite useful when attempting to appeal to a consumer making an impulse purchase. This is mostly due to the linear nature of search ads and the timeframe that this particular consumer needs to make their buying decision. The core function of a search ad is to serve an advertisement at the moment a user searches using your purchased keyword, which results in a singular opportunity for an impression and click.
However, when it comes to considered purchase paths, top-of-funnel search ads start to lose significant impact. Considered purchase buyers spend an average of 79 days researching , and are not traversing a linear buyer's journey. Search simply can't effectively target customers that spend time researching, reading reviews, validating choices, or engaging on social media before finalizing their purchase. Automobiles, homes, SaaS, financial products, or any considered purchase offering requires an approach that accounts for this multi-touchpoint, multi-resource, multi-tiered buying process.
These types of purchases demand exponentially more channels than Google search. When a user googles a keyword, that single impression does not make a lasting impact as they are quickly moving on. Forward-thinking automotive companies such as BMW, Mercedes, and Harley Davidson are recognizing the shortcomings of search ads and utilizing alternative methods to advertising in order to increase clicks by upwards of 300% and impressions by 3,000%.
2. Buying has changed, and your media strategy must too
Modern consumers are savvy and highly motivated to make well-informed purchasing decisions. This can largely be attributed to the connected devices that most individuals have in their pockets, making it easier to seek answers and compare options. This proliferation of information has transformed the customer journey 5into a labyrinth of touchpoints spanning search engine results to social media posts to product comparisons.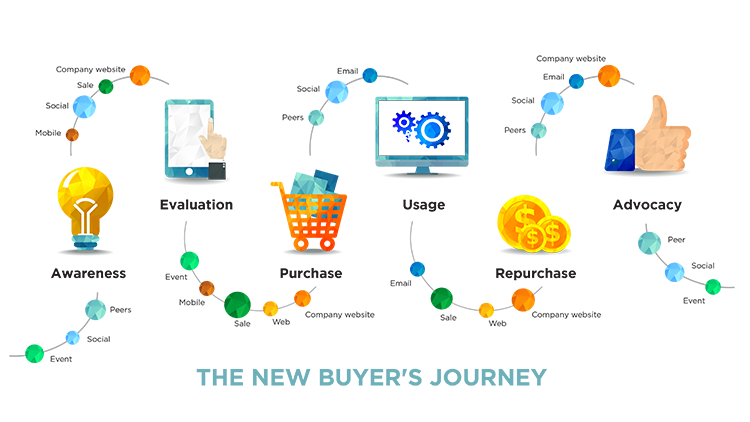 The increasingly complex roadmap of a potential customer is something that media buyers must confront and observe if they'd like to maintain a competitive advantage. A recent analysis by CEB explores how buyers actually see buying as a series of unique tasks as opposed to a journey . When compiled, these tasks or touchpoints produce an omnichannel process that is looping and meandering. This process becomes even more research-heavy and intricate in considered purchase paths.Where search ads once flourished, these modern buying habits are beginning to illuminate their flaws. Additionally, purchasing power is shifting to younger generations, which means they are the ones now purchasing homes, automobiles, and other products with long product lifespans (aka considered purchases). Century 21 noticed these trends and used a different approach to digital advertising. As a result, they increased clicks by 350% and impressions by 3,000%. This approach generated 714 new house showings across all of Canada during a 60-day test.
3. Power is moving away from search
As considered purchase paths broaden in scope and more tasks are carried out by the consumer before purchase, power begins to siphon away from search and into many other "destinations" on the buyer's journey. These newly empowered destinations include social media platforms, eCommerce sites, and various content publications and product review sites. Each additional channel on this multichannel path to purchase reduces search ads' capacity to inspire clicks and conversions.
This shift in power is reflected in a recent study that found over 50% of people begin their search for products online through Amazon, and not Google. Also, 74% of consumers are now expanding their purchase paths and using social media to inform purchasing decisions.
With 73% of consumers shopping on more than one channel, it is clear that a new approach to media buys is necessary. Media strategies are beginning to emerge that make it possible for organizations to have a commanding presence at all of these increasingly influential stops along the buyer's journey. These stops exist outside of search and offer businesses an opportunity for a much more impactful series of touchpoints. If a consumer is noticing your advertising beyond the search engine, and on sites and platforms that they frequently visit for information or guidance, you are crafting a much more resonant and targeted ad campaign.
Marketo recently picked up on this strategy and decided to run a 60-day campaign. As a result, they generated 976 new leads while simultaneously reducing the cost per action by 78%. This campaign outperformed Google Ads, Facebook, Linkedin, and Programmatic Display by over 300% each.
4. Search alone is not enough – enter the era of unstructured data.
The issue with a search-only approach is that it has become a one-trick pony. Search ads can only be effectively deployed to consumers looking to finalize a purchase in the few moments following their specific search. This tactic is less data-driven, which dramatically lowers its precision and ability to successfully engage with modern omnichannel buyers throughout their entire purchasing journey.
The complexity of considered purchase paths intensifies the need for accurate data. For businesses to expand the reach of their advertising efforts in a way that is both focused and compelling, multiple levels of data are required. To identify purchase intent, all of the data generated across all channels must be accounted for. The ability to collect this data and analyze it using predictive intelligence paves the way for businesses to determine who will be the most receptive to advertising as they are undoubtedly on the path to purchase.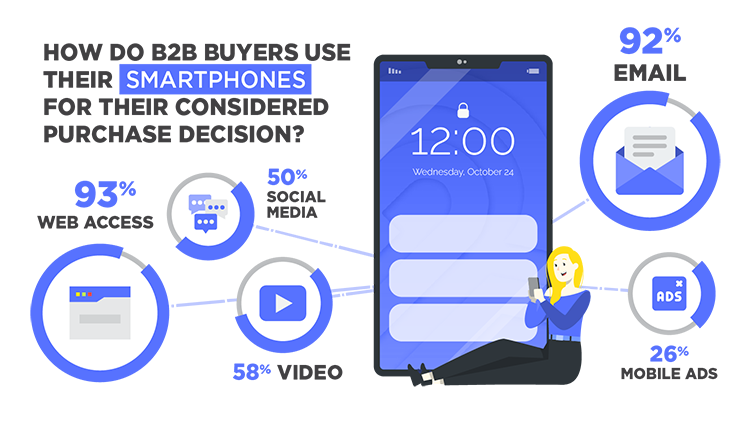 One of the new challenges that many businesses are now presented with is that 90% of "Big Data" is unstructured. This previously untapped data resource is difficult to access and represents some of the most rapidly growing databases available. Unstructured data, as elusive as it is considered, holds immense value for customer insights. This data is the perfect fuel for predictive intelligence, as it includes social media posts, email messages, audio, video, metadata, health records, and more.
By mining unstructured data, and using it to inform ad deployment, Full360 was able to increase the performance of their new business-focused digital campaigns exponentially. An effort that resulted in the closing of $100,000 in new business within a 60-day pilot period.
5. Cookieless tracking is around the corner
As big data technology matures, compliances and regulatory practices are constantly being reworked. One of the latest developments in this area are the GDPR, CCPA, and CASL efforts to regulate the use of 3rd party cookies. This has caused Google to prepare for the halt of 3rd party cookie use entirely by 2022 11. All businesses should take compliance very seriously, as these critical laws ensure the safety of both consumers and businesses.
As both Google and Apple have decided to move away from 3rd party cookie tracking, media buyers are currently seeking solutions for cookieless media investments. These investments are particularly valuable for businesses advertising to consumers in considered purchase paths, as accurate data helps hone these ad campaigns.
The use of big data in the creation of predictive sales funnels necessitates solutions that account for a cookieless future and offer new ways to track campaign-level engagement data specifically tied to intent on a keyword. In order to optimize performance, these solutions must function across all modern browsers while remaining unaffected by Apple's ITS or Chrome's 3rd party cookie blocking.
Conclusion
Search ads continue to play their role within digital advertising campaigns. However, as the online landscape transforms and consumer purchase paths evolve, these traditional search ads are verifying what many businesses are experiencing as an inability to appeal to modern consumers on considered purchase paths. Every purchase is different and should inspire media buyers to adopt a forward-thinking approach to serving ads, as search engines lose relevance while consumers prioritize omni-channel shopping. Successfully enacting these strategies requires media buyers to address these changes, and explore new unstructured data resources while remaining compliant and conscious of a cookie-less future.
This vital new approach to digital advertising has media buyers and brands making investments in solutions such as ReverseAds. ReverseAds utilizes keyword roadmap algorithms that can deliver 360° presence throughout the entire nonlinear buyer's journey. Media teams can no longer afford to view search as the digital workhorse. The behavior of consumers across considered purchase path industries indicates that end users don't just expect information and presence through their entire roadmap – they demand it.
Why ReverseAds
Media buyers are seeking solutions that outperform traditional search in considered purchase paths for their clients, and ReverseAds achieves this at a fraction of the cost. We empower brands to be where search results can't be – delivering a 360° presence throughout the entire non-linear buyer's journey. The ReverseAds cookieless solution protects customer privacy while meeting the demands (and behaviors) of consumers across purchase path industries who expect information and presence throughout their entire considered purchase roadmap.
The ReverseAds solution can be broken down into five essential steps: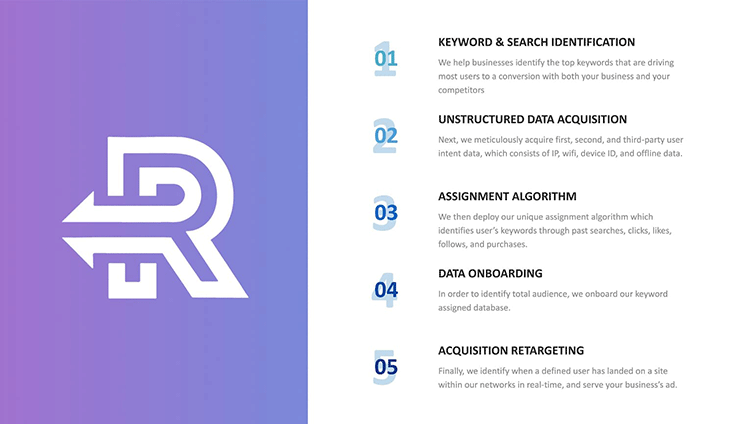 If you'd like to learn how you can outperform search in considered purchase paths, visit https://www.reverseads.com/ or email us at info@reverseads.com to schedule a time to speak with a ReverseAds Data Intelligence Specialist.