ReverseAds Blog
A chat with Giacomo Colaianni (Jack), Head of Product Strategy
August 6, 2021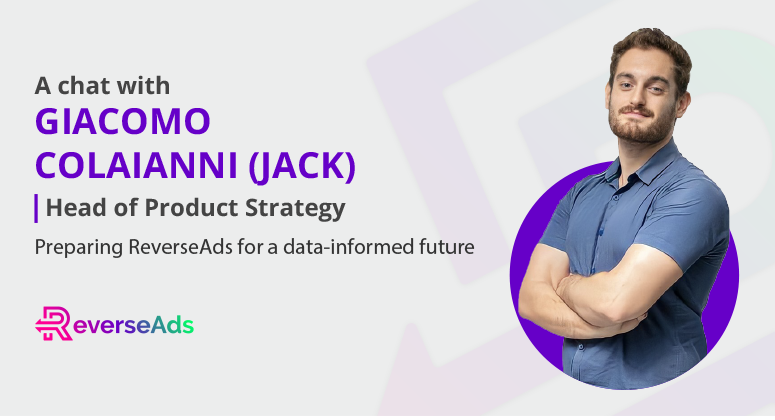 Preparing ReverseAds for a data-informed future
Pleasure in the job puts perfection in the work, as the common adage goes. After years spent in the advertising and marketing industry, Jack found his calling with ReverseAds, a fast-rising startup company that offers a new type of advertising medium for marketers with the first true alternative to traditional search ads.
Product leaders love to build stuff, and this notion extends to Jack's love of building teams, organizations, companies and even industries. Jack started his career in Bologna, Italy before moving to Sydney, Australia before settling in Phuket, Thailand at the start of 2018 where he got his career breakout in Southeast Asia's e-commerce industry.
Prior to joining ReverseAds in 2020, Jack was frustrated with the limitations and lack of ethics in the traditional advertising industry. Agencies were billing customers without providing any clear sustainable or tangible values while holding the future of these companies in their hands.
Although he was skeptical at first, Jack now truly believes in the company's mission to undo Big Tech's market dominance in the digital advertising industry by providing ethical advertising solutions to both SMEs and big brands. "I think what really works best for both advertisers and consumers is more functional products and solutions, a marketplace that's working properly, that has real competition," says Jack, adding that working with ReverseAds has instilled within him a renewed optimism about the advertising industry where his work could really make a difference, not just for a client's profit margins but the average consumer on the street.
"I'm inspired by the work that we're doing in building a real alternative to Google search ads – a revolutionary solution with our patented cookie-less keyword roadmapping algorithm that safeguards user privacy and protects advertiser's ad budgets."
As ReverseAds continues to scale and acquire more clients, Jack remains passionate about product innovation in his mission to provide ReverseAds with a solid competitive edge against today's tech giants.
Walk into Jack's office on any given day and you'll find him balancing management responsibilities with strategy and design work. The thread that connects the two main components of the role consists of empathy, vision and curiosity to better understand both the challenges and various potentials of product strategy. We sat down with him one afternoon to get his thoughts on the following:
Tell us a bit about the challenges you've faced building ReverseAds product
I'm generally quite an optimistic kind of guy so it was a bit disheartening at first having to deal with clients' disbelief about our product since we were relative newcomers to the Ad Tech space. Convincing clients of our product's capability was the first real challenge that I had to overcome. When Google and Facebook campaigns don't work, marketers are more likely to come up with a better advertising strategy or product offer. However, if you were experimenting with a different ad solution, then you are more likely to ignore the bigger picture which usually involves evaluating your marketing goals and campaign strategies.
As we started to acquire more clients and gradually ran larger campaigns, there was less doubt in our clients' minds that our product truly worked despite spending less with us compared to their Google Ads budget. We care a lot about our clients' success and are proactive about monitoring their campaign performance with weekly calls to provide best practices and personalized campaign tips.
We receive regular feedback from clients that were impressed when their campaigns achieved better results on a smaller budget. By setting realistic expectations and being 100% transparent in our reporting, we built mutual respect and trust with our clients. We also provide more flexibility before committing to a fixed budget such as 30-day campaigns to prove our results.
Programmatic Advertising vs ReverseAds
I've observed that there are too many programmatic solutions out there and most of these are riding on a trend with questionable effectiveness. Programmatic tools are also self-serving by only showing the number of clicks and impressions but not the end results in terms of leads or conversions.  
Furthermore, data from programmatic advertising is less accurate. Advertisers also have less control over their brand reputation by not knowing where their ads will be shown. For instance, inappropriate ad placement such as a car's safety feature ad being displayed on a news site highlighting the latest fatal car accident. Advertisers are unable to choose where and when users will see their ads. Most advertisers are not aware that with programmatic solutions, ads are only served based on those who have previously visited your website rather than attracting new customers.
With Google and Facebook, advertisers are paying for data targeting, ad placement and data collection. This also means that essentially your data belongs to the programmatic tech, which is then sold to competitors or other third parties.  On the other hand, our clients have full ownership over their data. ReverseAds does not sell clients data under any circumstances to third parties. We choose to respect data privacy as part of a long-term outlook rather than benefiting from maximum profit in the short term.  
Cookie Apocalypse and the Future of Digital Advertising
With the demise of third-party cookies upon us, brands are now increasingly strategizing for the future. This has led to some useful innovations and opened the door to what's possible. Many advertising solutions will be in trouble and the ones that remain will be more expensive. Programmatic advertising will take a huge hit as it will be less effective whereas Google will gain more of an advantage over its competition. It will also be a huge advantage for ReverseAds as we offer a fixed keyword pricing model with a privacy-first approach.
Although many are finding solutions without third-party cookies, they are still focused on the user's past actions to predict future actions. In order to get the most accurate targeting, ReverseAds looks at the most recent content consumed and searches done on the internet; real-time content and keyword searches.
Many solutions chose not to use real-time data – the more profile gathered in their data pool, the more they can sell. In contrast, ReverseAds provides total confidentiality and don't cross re-target with clients from the same industry. Not only is this unethical but there is no actual advantage as they might gain high-intent visitors on their website but they will also miss out on loyal customers, who are being redirected to competitors.
These are exciting times for businesses to build a fuller profile of their customers with first-party data to unlock greater insights and fuel better creativity. ReverseAds is at the forefront of this exciting era of product innovation and I'm proud to be part of it.
Future Direction for ReverseAds Product Vision and Strategy
With the ReverseAds app, we're aiming to improve client's control over their advertising budget and data with greater transparency of ad campaigns. We're also constantly innovating to provide the most accurate measurements of campaign performance via cookie-less tracking, where we store data on a server which are then 100% optimized.
We are looking to transition from traditional display ads (banner ads) to movement or content-based ads to create a richer user experience that leads to a stronger engagement with businesses. I hope our solutions will evolve to address different industry's needs and goals by diversifying our ad placements.
The company also hopes to empower more businesses, especially during these turbulent economic times, to be more competitive in online advertising without overspending, or giving away 50% of their profits to Big Tech. As the company continues to get noticed by bigger players in the tech industry, my team will strive hard to provide the right tools and strategies for forward-thinking businesses to be a step ahead of their competitors especially on user privacy updates.
We are fostering an inclusive advertising medium where businesses are not held hostage to a manipulative pricing strategy or remain overly reliant on Big Tech's market dominance.
This interview was edited for brevity and clarity.