ReverseAds Blog
Adtech Startup from Thailand, ReverseAds, Wins Frontier Digital Technologies Award at SLINGSHOT 2021
November 11, 2021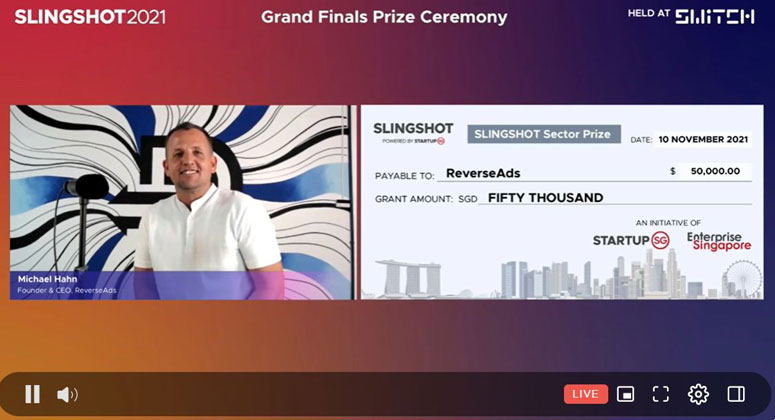 Minicorn Startup's Trailblazing Success is Set to Transform the Online Advertising Industry
ReverseAds emerged as one of the three winners for the Digital Technologies sector at the finals of SLINGSHOT 2021 on 10 November 2021, organized by Enterprise Singapore (ESG).
The adtech startup from Phuket, Thailand stood out for its ReverseAds App with a "Keyword Assignment Algorithm" that accurately predicts consumers' highest probability paths to purchase across the open web. Harnessing the power of machine learning and Artificial Intelligence, its innovative solution allows ReverseAds to compete directly against Google search advertising on a keyword-by-keyword basis, at a fraction of the cost, whilst empowering brands to diversify their ad budgets beyond Big Tech's monopoly.
ReverseAds takes home a S$50,000 Startup SG grant and 18 months of rent-free space at JTC Launchpad. There were 12 sector winners across i) Sustainability, ii) Health & Wellness, iii) Smart Cities and iv) Digital Technologies that also received a S$50,000 Startup SG grant each. In total, more than S$1.1 million worth of grants and prizes were awarded.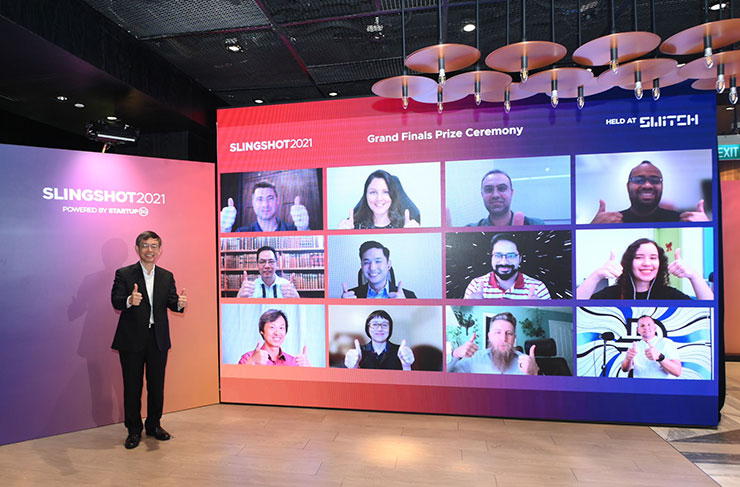 SLINGSHOT, powered by Startup SG, is ESG's marquee startup pitching competition that provides startups with an international platform to pitch themselves to industry heavyweights and investors. 2021's edition saw over 4,500 applications from more than 150 markets including leading startup hubs such as Singapore, Canada, China, Germany, the United Kingdom and the United States. Participants pitched to nearly 400 judges comprising global investors and corporates in Asia.
As sector winner, ReverseAds is expected to establish a presence in Singapore and its regional ecosystem. "In addition to boosting our ambitions for the ReverseAds app, the net effect of this win has also served as the best catalyst for our international scaling strategy and fundraising efforts. Energized by an algorithm that wins, 2022 will see new tailwinds for the company as we expand our presence to offices in Singapore, Australia, the United States and in other major cities across the world that purchase Google Search Advertising," said its CEO Mr. Michael Hahn. He added that the team is laser-beamed focused on improving the capabilities of its app to be the top all-in-one advertiser's tool for launching successful keyword ad campaigns across the open web.
Besides serving ads to high-intent users looking for engaging and relevant information beyond the standard annoying search ads, ReverseAds' proprietary algorithm has outperformed Google 3:1 in total cost per acquisition while staying compliant with GDPR, CASL & CCPA, and is not based on 3rd party cookies. Find out more about the ReverseAds App.