ReverseAds Blog
AI Enables Modern Advertisers to Use True One-to-One Targeting
June 17, 2021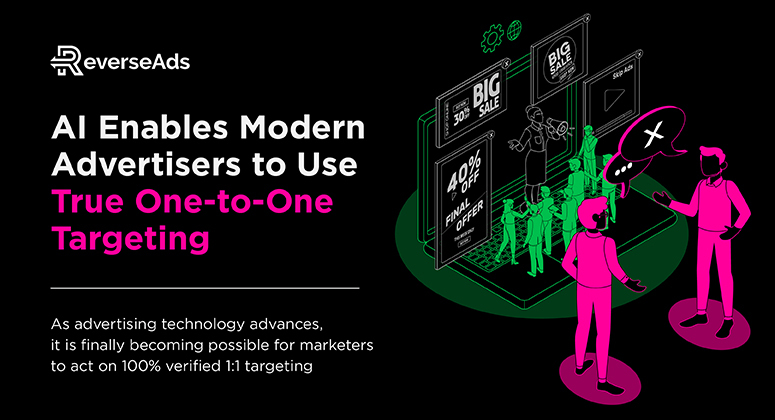 As advertising technology advances, it is finally becoming possible marketers to act on 100% verified 1:1 targeting.
One-to-one targeting and communications have been a goal for marketers since Don Peppers and Martha Rogers wrote The One-to-One Future: Building Relationships One Customer at a Time in 1993. It has now become a reality, thanks to advancements in technology and data management. Through the use of AI and machine learning, we are able to determine the reasoning and data behind every purchase that occurs on the web. This intelligent use of data enables ads to no longer appear to be ads, but rather as relevant pieces of informative content in users' purchase consideration process.
So how exactly can we use data to become more precise and effective at one-to-one targeting? Let's start by looking at some of the tasks that marketers perform on a day-to-day basis. We might act on a lead from PPC (search marketing) or conduct outreach to promote an eCommerce business opportunity via email drove (list building). However, the quality and source of the data is what truly enables effective 1:1 Targeting
Data used by the average marketer is pretty uninspiring since it usually only consists of the information provided in a web form or from customer purchase history and referrals. It would most likely be taken manually from customer relationship management (CRM) platforms since not all CRMs provide this insight. In a complex sales cycle, machine learning and AI enable businesses to get a deeper insight into consumer data and activity through the use of web pixels.
Marketers are attempting to tame the sales cycle, where customers view businesses through endless cycles of their past and present purchases. In the ' bumps and valleys' of the sales cycle the location of a website can determine a normal customer shopping flow, and a successful campaign will convert exactly where the customer is on their path to conversion. This can be seen especially with Amazons ad targeting practices, ensuring they are able to convert when their customers are at the right place and time.

To measure and track this process, specific copy management tactics are utilized, often incorporating extensive segmentation and structured data analytics. So much of a good ad campaign is about how a marketer makes sense of all of this antiquated data and understanding when customer sentiment is changing. This strategy can drive digital nudges toward customers that are high conversion points, targeting packages that have the best ROI for a company. Within this landscape, the big players have entered this new world, many with prestigious advertising techs at their disposal. AI enables not only the big players to do this, but smaller advertising operations as well.
To locate potential customers, marketing automation (or Machine Learning) is utilized to analyze websites, content, social media, call-to-actions, product search, and ads to determine what communications to create at what moments to drive the most conversion and profit for the business. This AI technology then turns those insights into AI-driven targeted marketing and communications, taking into account factors such as location, gender, language, interests, demographic information, history with a brand.
Google, Microsoft, Facebook, and Amazon all have their proprietary algorithms that ground and compile this massive amount of data into a unified point of reference for Brand Strategy. There are countless examples of this technology being used and modernized. Facebook developed the Facebook Spark initiative, using artificial intelligence (AI) to analyze millions of content profiles to deliver insightful care and information to users. Amazon is using machine learning to develop a Pavlovian model, which conditions users to buy based on triggers, that will allow the company to better understand customers' purchasing behavior.
This data then drives a series of predictive models that use AI to predict the consumer's page experience, adjusting ad campaign performance for desired return on ad spend (ROAS). This allows retailers to use precise targeting, through one-to-one optimization, to reach millions of customers at the best possible time in their purchase journey. This breaks down a purchase cycle, geographic location of a customer, and ability to convert into the preferred channels to achieve their desired final destination.
While the world looks toward companies such as Google or Facebook to do this magic, the challenge of installation and adoption is significant. This is increasing by the minute, which means that advertisers are required to invest more into longer programmatic and transactional buyers, as well as making digital ads that require buyers to act quickly.
One of the more challenging aspects of using data to determine which users are more relevant and bringing them lower prices, in concert with increasing engagement, is to develop an audience understanding based on keywords. ReverseAds will not only provide insight into human behavior, but a picture into great web marketing. If you're interested in learning more about how we are implementing hyper-personalized one-on-one targeting while serving ads for our global clients, contact us here or connect with us via Facebook and LinkedIn.
By Wyatt Hahn