ReverseAds Blog
Big Tech vs Australia
May 6, 2021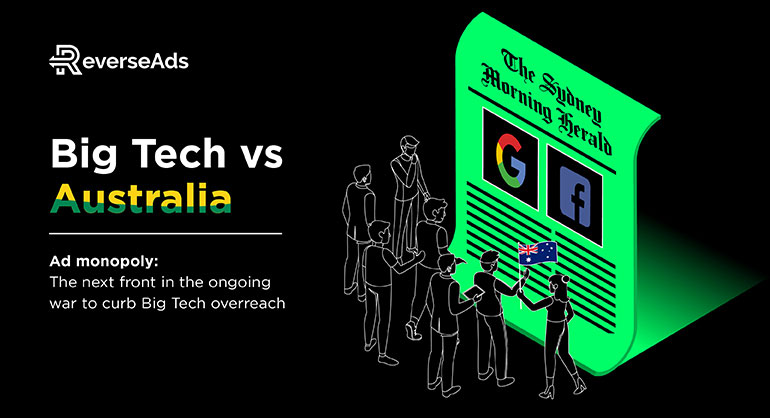 Ad Monopoly: The Next Front in the Ongoing War to Curb Big Tech Overreach
The world-first pay-for-news law, News Media Bargaining Code—passed by the Australian parliament in February 2021—seeks to address the news media's loss of advertising revenue to US tech giants. This is a major step toward lifting the lid on Big Tech's dominance of digital display ads, where the tech pair of Google and Facebook share an effective monopoly.
Google and Facebook argue that "the law goes against how the internet works". Meanwhile, publishers argue that they have lost large portions of advertising to Big Tech since they were not able to monetize their content that are being distributed on these platforms.
An investigation by the Australian Competition and Consumer Commission (ACCC) into the tech firms' online advertising dominance showed that, in 2018, for every A$100 (£56; €65) spent by Australian advertisers, A$49 went to Google and A$24 to Facebook. This finding also emphasizes how online personal data archives, that Facebook and Google have amassed, are fuelling the power behind their dominance.
The next front in the ongoing war between Australian news publishers and Big Tech platforms will the latter's ad monopoly. Their scale and influence, and their ability to manipulate public opinion and shape markets, would arguably permit them to reign unimpeded, that is unless they lose the battle with increasing worldwide regulations.
Big Tech and Media Giants Are Benefiting at the Expense of Consumers
The verdict of who stands to benefit lies heavily in Big Tech and Australian media giants who will profit without addressing the manipulations of algorithms and misuse of personal data in online advertising strategies. The law arguably seems to benefit old media superpowers – Rupert Murdoch's newspaper empire and Seven West Media – without doing much to undermine the dominance of Facebook and Google in online advertising.
Smaller journalistic entities have argued that the code favors dominant media companies at the expense of smaller publishers. The public also loses out here as they will be forced to take 'shortcuts' to obtain news and information, such as the sharing of non-verified anecdotes to fill the news vacuum, which increases their susceptibility to misinformation.
Online media and advertising diversity are not the public policy goals being served by the News Media Bargaining Code bill. Rather than a case of David vs Goliath, the recent modification of the law to placate Facebook seems to be a win for the government, social media and Australian media giants. The news code commits Google and Facebook to invest tens of millions of dollars in local digital content over the next years with both firms recently signing deals with local media companies for undisclosed sums.
Data as an Asset for Big Tech and Media
Data-driven innovation provides valuable services that many of us use and enjoy. While the Cambridge Analytica scandal brought to the public eye the very real act of Facebook monetising and sharing user's data with third parties, the ACCC believes Australians are still in the dark when it comes to the extent of the collection and use of their data.
Australia lags far behind in the privacy world with some states, such as South Australia and Western Australia, not even having a privacy act. The national act has major concessions, including for small businesses with annual turnover of less than A$3 million. A vast majority of Australian businesses are not legally obliged to comply with standards for fair and safe handling of personal information.
Australians also have a limited understanding of which businesses are covered by the Privacy Act with 55% of respondents in 2020 assuming that media organisations and businesses recording work-related information about employees are covered under the Privacy Act, when they are not. Among those who knew that media organisations are not covered by the Privacy Act, 61% believe that they should.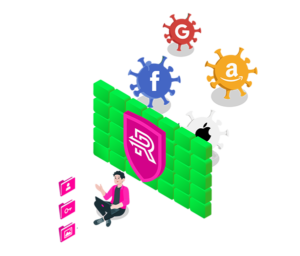 In a 2020 ACCC survey, 83% of Australians said they'd like the government to do more to protect the privacy of their data. The survey also found that some data practices of digital platforms, including Google and Facebook, are unfair and undermine consumer trust. There have been concerns raised that customers' contact-tracing data, in particular collected via QR codes, may be exploited by media organizations for targeted advertising.
Generally speaking, both the current Australian legal framework and the terms and conditions applied by online platforms are based on a model of notice and consent: notification that personal information is being collected and consent to those users. Yet as the ACCC survey has indicated, even where users may have assented to their data collection, they were troubled by the scale and scope of platform data collection.
It also noted that they had little bargaining power compared to platforms which largely set the terms of information collection, use and disclosure on a 'take it or leave it' basis. This is exemplified in cases where Google has often violated antitrust and consumer protection laws to leverage its powerful position on every side of the online display markets to unlawfully exclude competition.
How Do Big Tech Get Away with Leveraging Your Personal Data?
Ad tech is obscure by design, working in real time to dynamically link advertisers and consumers. Ads are no longer targeted at, say, a typical Age reader. They're aimed at a personal profile, put together by the platforms' algorithms, who just happens to be reading The Sydney Morning Herald at the time the ad is served to them.
In this world, publications offer space online to be aggregated in supply side platforms. Advertisers meanwhile post their ads with a demand that they reach certain audiences. An exchange in between matches the two sides based on Google's behavioural data.
Google uses its dominance of search and of browsing (though Google Chrome, the subject of a separate anti-trust action by the US Department of Justice) to own the behavioural data it needed to dominate each of the three steps.
Facebook uses its dominance of social media (including ownership of Instagram) to pocket about $1 billion, or about 30% of Australia's display advertising spend. (Google also picks up about $120 million from YouTube ads in Australia as well as $3.5 billion in search.)
Then comes the ad tech money. Google was able to demand that it represent the buy-side, where it extracted one fee, as well as the sell-side, where it extracted a second fee, and it was also able to force transactions to clear in its exchange, where it extracted a third, even larger, fee. The result: less than half of all ad dollars end up making it through to the publications (and the journalism) it's meant to support.
Less Dependence on Google and Facebook
A research published in 2020 on Facebook, news media and platform dependency reported that plenty of readers directly visited a media publication's home page (News.com.au, ABC News online, BBC News online and Guardian Australia), which challenges the idea that companies depend totally on Big Tech platforms.
More than half of Australians get news on social media, but fewer (39%) use Facebook for news than the global average (42%). While many young people access news through social media, older people still prefer television or news websites. More businesses have been realizing there are other ways to cultivate readers, and there's no need to be beholden to tech platforms that generate clicks but don't want to pay for the privilege.
Media companies have also been exploring different ways of generating revenue. These include placing ads inside content (known as native advertising) and holding events. As such, some have pivoted their digital strategies to improving their daily newsletters and subscriptions, ensuring that a certain percentage of readers actually paid money for the news product at some point.
Ad Tech as a Solution for a Privacy-Forward Future
Although the proposal to force Facebook and Google to share revenue, and importantly data, will help plug some funding holes and give publishers more transparency over audience data ownership that has been lost to the platforms over recent years, it raises the issue of data privacy protection.
A viable solution that can be proposed for balancing the playing field and restoring more consumer privacy online is to ban advertising that is targeted to online users based on the online dossiers that Facebook and Google build for marketers, which could simultaneously lower the tech giants' appetite for data collection while potentially improving competition in the advertising industry.
This is why the ReverseAds mission is to break the chains of Big Tech, and return the power of the internet to the people. We are preparing for a privacy-forward future with our predictive keyword algorithm technology which is compliant with GDPR, CASL & CCPA, and is not based on 3rd party cookies. We don't use user-level data, but instead we track campaign-level engagement data specifically tied to intent on a keyword via machine IDs. And the information stored is anonymous.
More than just a revolutionary alternative to traditional search ads, ReverseAds empowers forward-thinking brands to think beyond Google and Facebook for cookie-less digital advertising solutions.