ReverseAds Blog
Consumer Trust and User Experience: Google's Search Algorithm Update
January 5, 2021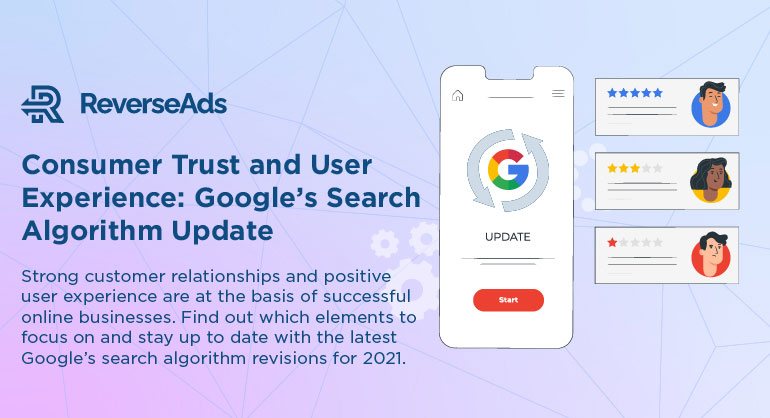 Data collection is the backbone of the current omni-channel economy, and consumer trust is fundamental to build, maintain and nurture customer relationships that enable us to access valuable information.
Nowadays, users are the driving force behind success, leveraging personal data is a privilege that tech companies have acquired over time and must be handled carefully. For any online business, it is essential to provide a smooth, remarkable customer experience to ensure visitors finalize their purchase and return in the future.
How to gain consumer trust in the first place?
As businesses expand their online services and become fully digitalized, building a meaningful relationship with your audience is vital to make a difference and generate more revenues.
The trust between a consumer and a brand is just as important as other business relationships. According to research, customer retention is way more cost-effective than constant acquisition: it is 5 times more expensive to earn a new customer than it is to keep an existing one, who already knows and trusts your brand. Increased customer retention gives your business the opportunity to focus on highly valuable consumers who have chosen your brand and will keep doing so. Here are a few strategic elements you can use to build or strengthen your bond with customers.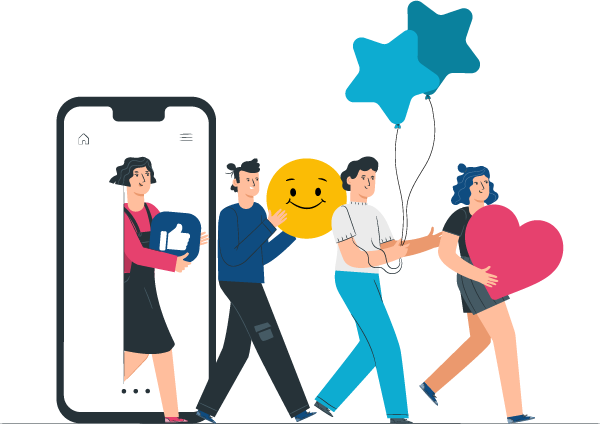 Value Customer Reviews
No matter if they are criticizing or praising your business, encourage your customers to provide plenty of reviews and make sure you respond to each of them. According to a study by CrazyEgg, 70% of online buyers trust reviews and testimonials even if provided by strangers, and 88% of them fully believe in reviews left by relatives or friends.
A good review is obviously a great marketing opportunity to prove your business is efficient and trustworthy, to advertise your business without incurring any costs and to boost credibility. Similarly, a bad review can serve as a chance to show interest in your customers' feedback, to promote transparency and to demonstrate your willingness to improve in the future. This leads to the ultimate hot topic in the digital advertising field: user experience.
Focus on User Experience
As previously mentioned in our blog on how to boost conversions with customized banner ads and landing pages, providing a positive user experience can make the difference for the success of your online business.
User experience (UX) relates to everything your visitors experience as they navigate and interact with your site on each page and element. Forrester research shows positive user experiences can increase conversions by up to 400% and reduce page abandonment by 41%.
Google itself has announced a search algorithm update to roll out in May 2021, which prioritizes user experience, usability and user-friendliness as ranking factors for a given website.
The new Google Page Experience Update is meant to increase SEO performance for websites that focus on providing a smooth customer experience throughout each web page and element.
Among the factors that will influence ranking we find:
Mobile Optimization: it has become increasingly important over the years to ensure that websites perform equally well on both desktops and mobile devices. It is proven by research that if your mobile website is difficult to navigate you are likely to experience a decrease in visitors of nearly 60%.
Browsing Safety: another key element to build customer trust and avoid any complications along the conversion path is to eliminate any deceptive content that might encourage users to stop browsing.
Secure Site: Privacy issues and data collection policies have been the subject of many lawsuits against advertising companies. Customers need to trust your website enough to enter their information. This can be done by adding an HTTPS tag and a SSL cert on your site.
No Intrusive Pop-Ups: interstitials often cause visitors to exit your website and look for another option. Your page content needs to be easily accessible to users in order for the new algorithm to help you rank higher.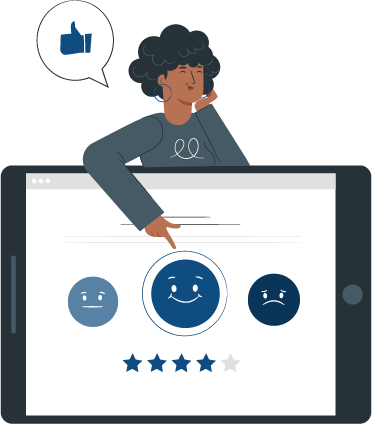 What do these changes imply for online businesses?
The new Google update reaffirms the user-centric direction that search advertising is taking, focused on positive user experience and customer satisfaction. Optimizing for these factors makes the web more user-friendly across all browsers and gives businesses an incentive to improve technical features on their websites and landing pages. Many businesses have already moved towards this direction by reducing page loading times, providing personalized responses and easily accessible content.
The revised search algorithm will help websites that consumers love the most rank higher and it might cause temporary ranking fluctuations. Despite such issues, the revision is aimed at improving the quality and precision of search results by focusing on the factors that truly matter the most to online consumers. For a more comprehensive overview on how to increase user engagement and conversions throughout your marketing channels subscribe to our weekly blog and read the latest updates!