ReverseAds Blog
Does Google Actually Care About Your Privacy?
March 31, 2021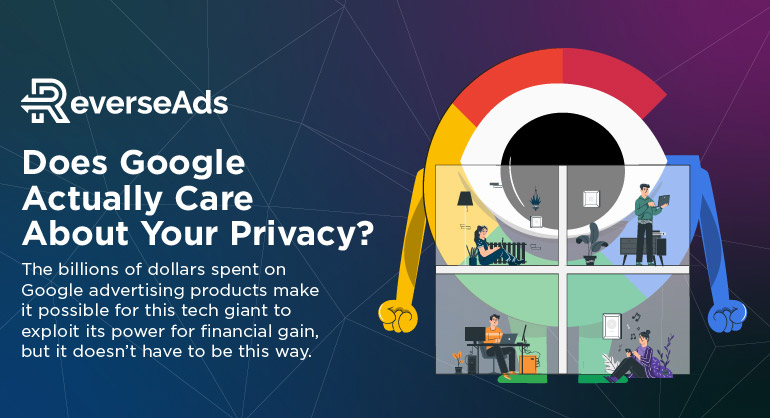 Every era is defined by a series of cultural events, influential thought leaders, and innovative solutions that transform people's daily lives worldwide. The mainstream popularity of Google in the mid-aughts and early twenty-tens is an excellent example of a corporation and brand helping define an era. Their undeniable impact on that period and its lingering effects can still be felt in society's mass digitization.
However, Google's stint in society's driver's seat is quickly coming to an end as the tech giant's public opinion shifts to one of privacy overreach and corporate cronyism. As private citizens and publicly traded businesses both sour on the thought of Google becoming too powerful, the corporate giant is still raking in a majority of its profit from search advertising solutions. This is an interesting predicament, as these disgruntled individuals and business owners are the same ones continuing to empower Google by overspending on Google Search Ads.
While Google's primary profit center is its advertising arm, its suite of services is quite expansive. Google's free services include Gmail, Chrome, Google Drive, Maps, YouTube, and more. These services made it possible for Google to scale its presence and become a dominating force. Without these services, Google Ads would not be the success it is today. Google uses these free services to improve and add value to Google Ads… but at what cost?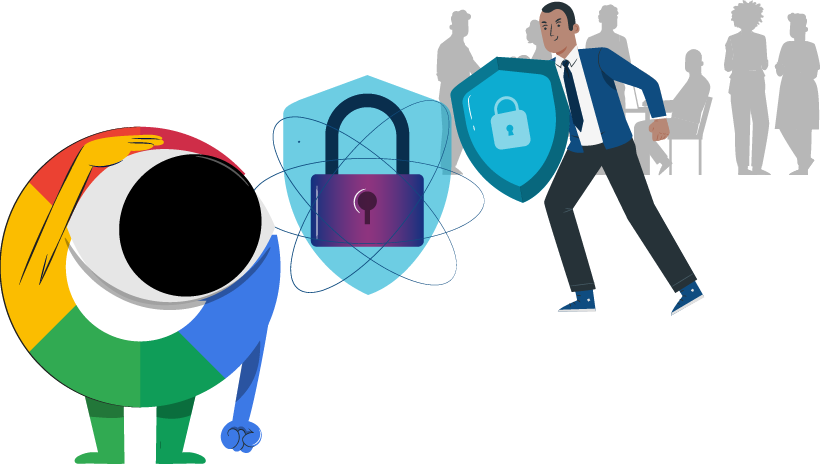 At first glance, Google's proprietary software is one of the more valuable free software suites available. While this continues to be true, these tools also make it possible for Google to collect data and ultimately profit by selling this data or using it for its advertising products. As a significant number of people access and utilize Google's proprietary software from both personal and work devices, privacy issues are bound to arise.
Every user is required to register to gain access to these tools. Upon registration, many data privacy rights are willingly sacrificed. This puts an unimaginable amount of data in the hands of Google, which has led to a range of conflicts with local regulatory bodies over data privacy and breach of data security on the tech giant's networks.
Privacy should be an inalienable human right; however, with Google, privacy is a commodity. But what exactly does this mean for the average consumer or business owner? The simple answer is that no matter how Google sells its privacy settings and features, it will still have access to personal information. Allegedly, this information from personal data is being sold to third parties. This has landed Google in a variety of severe legal proceedings with local regulators, as well as a range of serious accusations from independent organizations due to breaches in data privacy.
Ireland, UK, and France are still embroiled in court hearings and trials over Google's privacy breach. Each of these unique cases demonstrates Google's contradictory stance on its terms of privacy. In September 2020, Google caused some controversy in Ireland after Johnny Ryan of the Irish Council for Civil Liberties, filed a formal complaint about the issue of "real-time bidding." Real-time bidding is the buying and selling of online adverts through real-time auctions that take place through online exchanges.
Johnny Ryan described the real-time bidding system to fill advertising spots as a "privacy crisis" because it allowed for data to be shared based on what a user was reading, watching, or listening to. This data was subsequently sent to companies when Google placed an ad online. In the filed complaint, Johnny Ryan stated that the real-time bidding system represented a "vast, systematic data breach" that allowed data brokers to "develop intimate profiles about us, our afflictions, and interests". This information is then sold, and Google turns a massive profit.
France also shed light on Google's privacy issues. The CNIL (the Commission national de I'informatique et des libertés) France's data protection regulator, had handed Google and Amazon a sizable fine for the misuse of cookies. Tech companies use cookies to track users and serve personalized ads. In Google's case, the cookies were used to track deactivated personalization, which resulted in a 100 million euro fine.
One of Google's subsidiaries, YouTube, was recently accused of violating the privacy of children that use the platform in the UK. The company allegedly turned a blind eye towards any rules and regulations that had been imposed to protect children. The complaint was filed by Foxglove, a data advocacy group in the UK, stating, "They know full well that millions of children watch YouTube. They're making money from unlawfully harvesting data about these young children as they watch YouTube videos – and then running highly targeted adverts, designed to influence vulnerable young minds."
The fines for these violations totaled £2.5 billion ($3.2 billion). To make matters worse, this wasn't the first time that YouTube was accused of violating children's privacy. The previous year Google and the FTC reached a settlement of $170 million after it had been accused of violating the Children's Online Privacy Protection Act. The Federal Trade Commission accused Google and its subsidiary YouTube of collecting private information on children who use the platform.
These legal proceedings crystalize the hypocrisy of Google's actions when compared to its privacy features. They have seemingly ignored regulations across multiple jurisdictions, and their privacy violations have left many users exposed and vulnerable. The billions of dollars spent on Google advertising products make it possible for this tech giant to exploit its power for financial gain, but it doesn't have to be this way.
ReverseAds was created as the first true privacy-first alternative to Google Search Ads. Our cookieless tracking solution ensures compliance and guarantees privacy across all jurisdictions. We aren't tracking user-level data but rather campaign-level engagement data tied explicitly to a keyword's intent. This is an entirely different approach to data privacy than the one being carried out by Google. ReverseAds doesn't track user-level data but rather campaign-level engagement data tied explicitly to a keyword's intent. The data stored is anonymous and compliant, while we can read engagement specific to a particular user.