ReverseAds Blog
Futureproof Your Digital Advertising from the Data Privacy Impact of iOS 14.5
June 9, 2021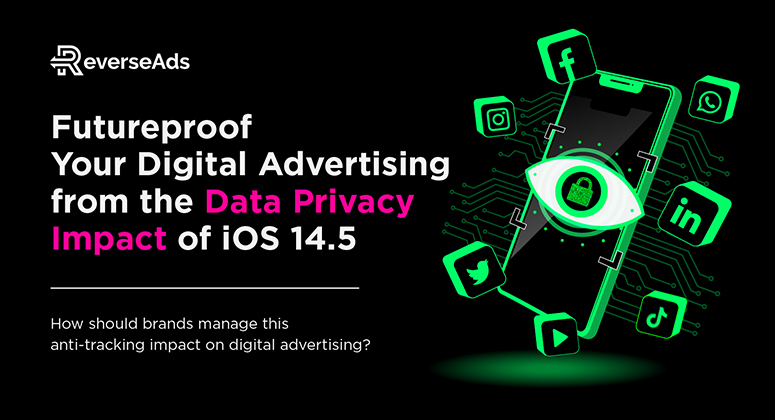 The world is abuzz about the launch of iOS 14.5 with one particular update that has piqued the interest of both advertisers and consumers.
With iOS 14.5, Apple will require users to provide explicit permission for apps to collect and share data. To collect permission, Apple is enforcing a Tracking Transparency (ATT) Prompt  in the App Store. Apps that do not adopt the prompt will be blocked from the App Store and risk damaging their reputation.
To understand what all the fuss is about, it's important to know what's different this time. In previous versions of iOS, users could opt-out by choosing the "limit ad tracking" option in their device settings. This resulted in roughly 30% of users opting out in 2020. However, iOS 14.5 specifically requires users to opt-in for each app, in order to continue being tracked.
This major privacy initiative and anti-tracking feature mean that the percentage of iPhone users sharing their unique Identifier for Advertisers (IDFA) with apps is predicted to drop from 70% to as low as 10%. Long-term impacts will include less tracking capabilities and user personalization – privacy proponents see this as a promising step toward the prioritization of data privacy.
Prioritization of Data Privacy to Check Big Tech's Overreach
Facebook and Google have been at the forefront of unjust tracking practices as they are able to significantly improve their ad campaigns and revenue generation by collecting as much data as possible. On the other side of the coin, we have two major Big Tech rivals since the early days of the iPhone – Facebook and Apple.
Both companies are trying to appeal to consumers that they are listening to their wants and needs, in this case: more privacy.
One of the biggest reasons that advertisers use Facebook is that they have granular audience targeting capabilities. With Apple building in privacy controls into the iPhone, it would impact Facebook's ad network revenue. Facebook argues that they would prefer to offer their own privacy check-up tools to help users limit what data to share, instead of the pop-up prompt from the app store.
Clearly this push by Apple to prioritize user privacy is a step in the right direction, as it shines a light on the apps that are overreaching and allows them to be stopped in their tracks.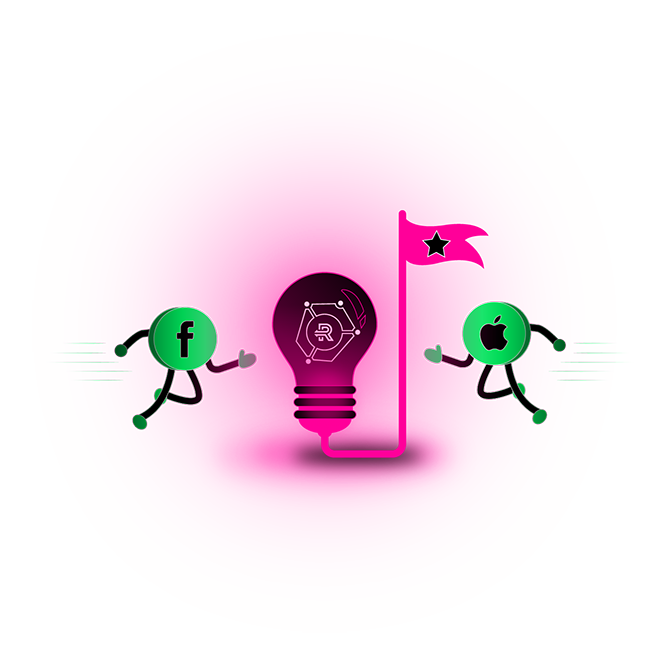 Effects on Your Brand's Digital Advertising and The ReverseAds Solution
Data has become critical to digital advertising, as it allows businesses to improve the accuracy of their targeting in order to get in front of the right audiences. On a brand's end, there will be less data to work with when optimizing ads due to less pixel tracking activity of user activity. The most affected will be Facebook Ads with your Return on ad spend (ROAS) potentially being reduced as you won't be able to see the real-time performance for iOS 14 device audiences – it will be a 3-day window.
Conversions made by users who opted out of tracking on iOS14 through your Facebook Ad will not be tracked. Users who visited your website via iOS 14 devices and iOS 14 users who opted-out won't be tracked, so they won't be able to be included in Retargeting or Lookalike audiences. Facebook's app and web conversions will no longer provide reporting on the delivery and action breakdowns of iOS 14 users. This includes age, gender, region, and ad placement.
As for your Google Ads, there will be performance fluctuations on apps and the web as the new ATT policies transition in. Advertisers may need to be even more meticulous about adjusting budgets, targets, or bids and closely monitoring campaign delivery to stay on track with goals.
Due to this privacy-first trend, many brands are beginning to worry that their ad campaigns will suffer as a result of this update as well as future updates that will further limit data collection. This is why ReverseAds has spent the last five years developing an advertising solution that prioritizes privacy while delivering accurate and effective results for global brands.
We offer a privacy-first advertising technology that combines proprietary keyword algorithms with decentralized distributed web landing pages. The combined power of these two elements ensures that ad campaigns can be highly targeted while ensuring that you're fully compliant with privacy regulations for complete peace-of-mind.
Our keyword roadmapping algorithm is cookie-less, collects campaign-level engagement data and allows us to see how consumers are engaging with specific keywords across the open web (and social media) without retaining any personally identifiable information. We only track data on user engagement with specific keywords to determine which customers are the most receptive to your advertising.
What's our take on this?
Apple's move to prioritize data-privacy is being carried out because consumers and businesses are both waking up to the reality that consumers are losing control of their data. Apple understands that apps and Big Tech companies must be encouraged to the point of transparency, or risk this behavior continuing in the shadows.
As an ad tech firm that has been fighting bad data collection practices, we believe that privacy is all about personal choice, and if we don't make decisions that protect our ability to choose then we run the risk of losing control of these decisions. If consumers hope to remain in control of their information and maintain some degree of privacy, then it is up to advertisers and brands to make changes that reflect this hope.
We've survived 2020 by being flexible and finding creative solutions to take on the ever-changing landscape. Moving forward in a post-cookie world, ReverseAds will continue to empower brands to choose advertising technology that puts privacy first with alternative solutions for optimizing their digital advertising ROI, including multi-touch, next-gen attribution and the best-in-class fraud prevention.
Biggest takeaway? The next few months will be crucial for marketers to level-up and stay competitive as these data privacy changes are implemented. Although iOS is just a portion of the total smartphone market share, it's all about finding creative privacy-first solutions to properly serve everyone.