ReverseAds Blog
Google, Facebook, vs ReverseAds – Which Partner Program is Better?
August 5, 2021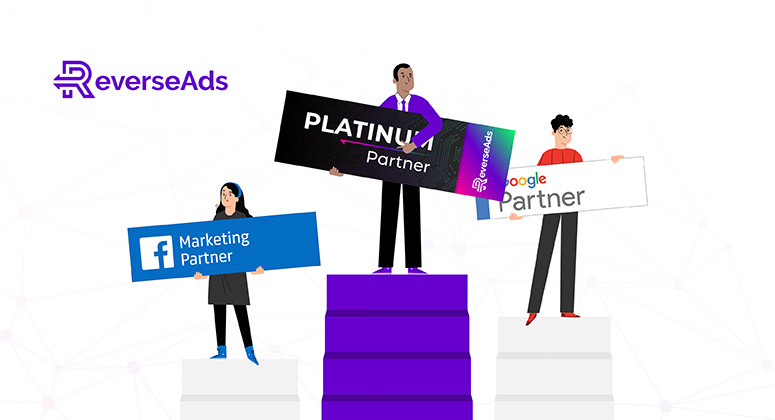 A Comparison of Google, Facebook and ReverseAds
Working with a marketing partner is a long-term commitment, which is why it's so important to select the right platform to be certified by. The right partner program can help you achieve your business goals and remain competitive. However, not all partner programs are delivering the same experience, rewards and results.
Let's take a closer look at each of these partner programs:
Facebook Marketing Partners (FMPs): Certified partners that help businesses manage advertising campaigns, grow your expertise and help your clients succeed. FMPs provide the latest tips, online training, and essential resources for agencies to successfully run advertising campaigns.
Google Partners Program: Advertising agencies or third-parties that manage Google ads on behalf of other brands or businesses. When you sign up for Google Partners, you'll get access to a range of benefits, including training, industry research, and more.
ReverseAds Partner Program: Certified ReverseAds resellers such as agencies and technology partners that will manage and optimize your advertising campaigns to achieve the best results for your business.
Requirements

Benefits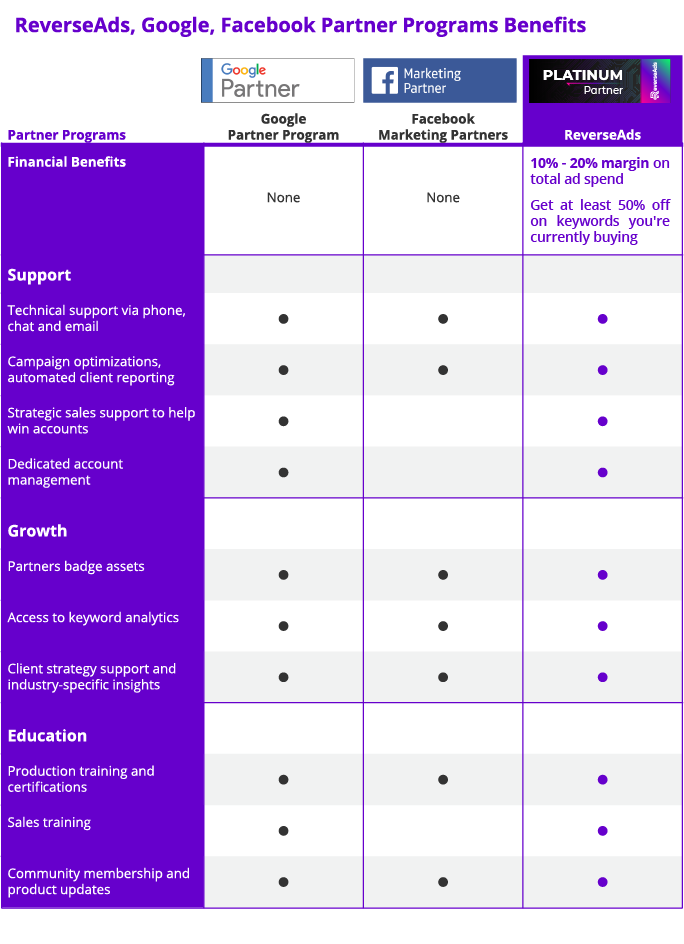 What you should know
To qualify as a Premium Partner, agencies are required to meet the minimum qualifying requirements in certification, ad spend and performance.
Increasing ad spend requirements for Google and Facebook Partner Programs have made it challenging for companies to meet their long-term goals and accelerate growth.
To achieve the highest ROI and receive better results, companies are required to not only raise their spending budget, but adopt a high percentage of recommendations or risk losing your partner badge and status.
Google and Facebook platforms are pushing agencies and their clients to implement highly generic and less customer-centric recommendations or risk sacrificing performance.
"Walled gardens" like Google and Facebook control the market of data and resources by keeping user data within the confines of their ecosystem, limiting the scope of ad campaigns and increasing costs without push back from their clients.
If your business is unable to meet the stringent requirements set by these tech giants, your ad campaigns will stop performing and you won't achieve your advertising goals.
Futureproof your Strategic Goals with the ReverseAds Partner Program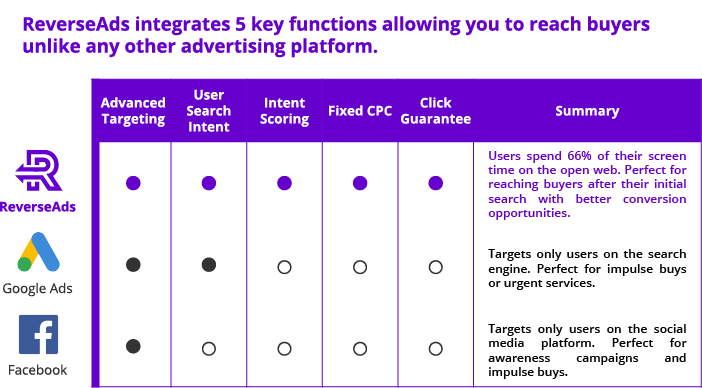 As a ReverseAds partner, you can deliver more for your clients and stand out from competitors. This is made possible through exclusive and comprehensive market intelligence, sales resources, partner training, and substantive financial benefits.
ReverseAds helps audit your strategy to ensure success, creates best practices to boost conversion rates, and optimizes all ad campaigns in real-time. All of this is built around three solutions: Reverse Search Ads, Reverse Competitive Ads and Reverse B2B Ads.
The ReverseAds Partner Program delivers maximum value through comprehensive support, valuable resources, continually optimized performance, and everything you and your clients need in one easy access.
10% to 20% margin on total ad spend
Get at least 50% off keyword (cost per click) CPC
You are guaranteed to save time and money on managing your advertising campaigns by choosing a ReverseAds certified partner to reach your business goals, gain useful insights and resources, including 24/7 personalized support from experts on the ground to help you get the best possible results!
Joining the ReverseAds Partner Program will provide you with a range of exclusive benefits and grant access to a partner badge, valuable resources, and unique financial benefits (profit share commission arrangement) that no other partner program provides.
To learn more about the ReverseAds partnership and alliance program, please send inquires to following.