ReverseAds Blog
ReverseAds Claims Top Prize at Spark Ignite Global, Turbocharges to SLINGSHOT 2021 Finals
November 4, 2021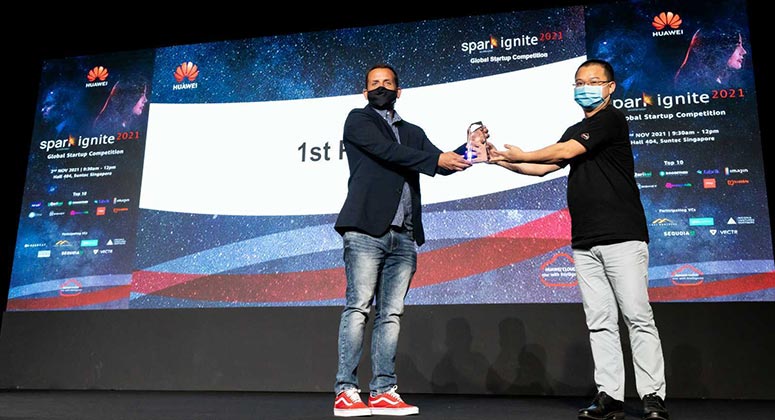 Fast-rising startup anchors itself within the world's top innovation nodes
Another inspiring win for the Phuket-founded startup, ReverseAds continues to lay the groundwork for its mission of revolutionizing the digital advertising industry after taking home the 1st prize along with the "Most Popular Vote" at Huawei Spark Ignite Global Startup Competition 2021.
The highly anticipated finale, held on 2 November, was a hybrid virtual/in-person event organized at Singapore's Suntec Convention Centre. Boasting an impressive line-up of 10 ambitious startups vying for top prizes, mentorship opportunities, exposure to venture capitalists and the coveted Top 100 Global Startup spot for SLINGSHOT 2021, ReverseAds' CEO and founder, Mr. Michael Hahn, delivered an impressive five-minute pitch live on stage followed by a five-minute Q&A session on its keyword advertising platform, product-market fit and growth strategies as a direct competitor of Google Ads.
Leading startups that are defining the disruptive technologies of tomorrow
Ad-Lib.io and Stayr were also present in-person to deliver their final pitches to a engaging panel of discerning judges comprising of Mr. Leo Jiang, President of Digital Huawei Cloud Region Asia Pacific and representatives from event partners such as Enterprise SG, Startup SG, HKSTP, InvestHK, TusStar and Agorize, as well as heavyweight VC partners from Angel Central, Brinc, Cocoon Capital, HKSTP Ventures and more.
Ad-Lib.io is a next-gen creative management platform that aims to power creative effectiveness by closing the gap between creative concepts and digital media execution. Stayr, a fast-growing property and travel startup dealing with real-time spaces, empowers space providers to manage and grow their businesses on its platform, by monetizing empty assets through its hourly ecosystem. The company emerged as 1st runner-up and joins ReverseAds in the top two winners ranking of Spark Ignite Global to be fast-tracked as a Top 100 for the finals of SLINGSHOT 2021.
Among the finalists participating virtually were Trabble, a travel and hospitality tech startup that offers end-to-end guest engagement solutions to automate operations via its chat-based personalized concierge platform, and Doogether, Indonesia's lifestyle and wellness community platform and HealthTech startup providing affordable and personalized fitness via its immersive app.
Aone, an EdTech startup from Malaysia, offers an engaging marketplace throughout Southeast Asia for teachers and students with its cloud-based management system. Imajin, an Industry 4.0 smart manufacturing tech startup, accommodates a marketplace for Indonesian manufacturers to communicate for every layer of manufacturing with all the partner sources to manufacture, improve and distribute their products.
Fabrik, a metaverse tech startup from India, provides a seamless no-code solution for creating a single, unified interface with the power of AR/VR to help brands achieve 3D interactions and experiences. Also based in India, Signzy is a FinTech startup that delivers a digital on-boarding regulatory compliance solution for banks, NBFCs and other financial institutions through a combination of AI and blockchain. Barikoi, a full-stack location data provider based in Bangladesh, aims to advance hyper locality as the future of location technology for businesses, developers and governments using reliable location data, integrated platforms, people and AI.
Turbocharging to the prestigious finals of SLINGSHOT 2021
ReverseAds is set to take the stage from 8 – 10 November at Asia's most exciting deep tech competition among other shortlisted Top 100 startups for the grand prize of SGD 200,000, on top of SGD 50,000 Startup SG Grant which is awarded to the Top 12.
SLINGSHOT 2021, organized by Enterprise Singapore in collaboration with Agorize during the Singapore Week of Innovation and Technology 2021 (SWITCH 2021), promises to be a once-in-a-lifetime opportunity for growing and scalable startups to pitch to a global audience of major investors, industry heavyweights and thought leaders.
"Competing as one of the top finalists in SLINGSHOT 2021 will strengthen the company's reputation during a tremendous time of growth with regard to market value and client base. The exposure will accelerate ReverseAds' regional and international expansion to help us deliver real business value on a wider scale as a direct Google competitor," said Mr. Hahn, adding that the team's market expertise is well-positioned to understand what clients expect from their advertising budgets by increasing the ROI of their ad campaigns, beyond the limited realms of Google and Facebook Ads.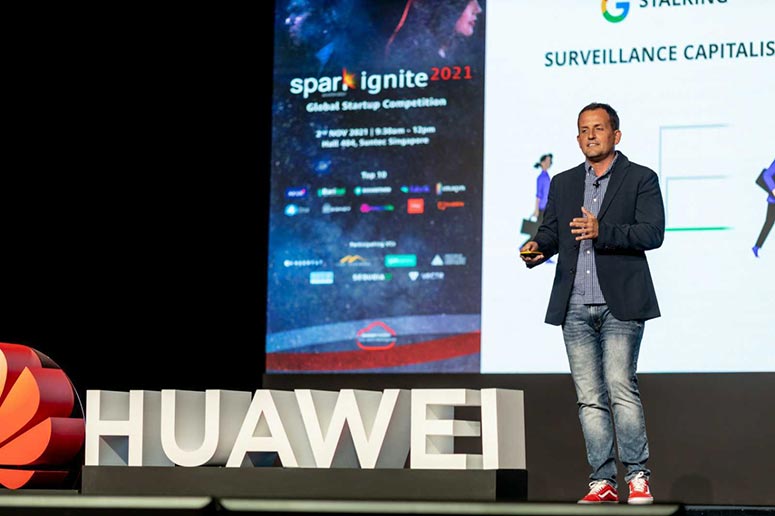 ReverseAds pioneers a game-changing pricing model for intent-based advertising
As ReverseAds enters the expansion stage and expectations run hot for its Series A raise, it's natural to wonder how the company will continue to build significant product differentiation in the AdTech space.
Elaborating on the company's ambitious product development roadmap for its patented 'Keyword Assignment Algorithm', Mr. Hahn said, "In all initiatives toward becoming a unicorn startup by 2023, the team at ReverseAds operates with the motto to put quality first, aiming to deliver competitive and privacy-forward advertising solutions for a growing client base by supercharging our app's capabilities across all devices."
Whether it's movement-based ads, personalization, precise targeting or any other from a long list of prominent advertising trends, nearly all point back to the core imperative of intent-based pricing rather the traditional Pay-Per-Click (PPC) model, where marketers stand to lose rather than gain. An immersive keyword advertising platform to launch successful online ad campaigns, the ReverseAds App's tech development has culminated in an industry-first intent-based value and measurement pricing model.
Powered by the intelligent use of A.I and machine learning, ReverseAds' Cost-Per-Intent (CPIn) model offers clear pricing definitions of user purchase intent for marketers to optimize their ad budgets by only paying for genuine, high-intent traffic instead of all clicks. The pricing model aligns with three main factors that define when a user reaches the stages of purchase intent: spends 22 seconds or more on a site; visits 3 or more pages; or performs a 100% scroll depth on a landing page.
In a B2B considered purchase marketplace that is more digital and buyer-driven than ever, the AdTech industry needs to transform, be disrupted and certainly re-imagine its products and solutions for clients to reach the right accounts and buyers, when they're ready to buy.
And this is where ReverseAds is well embedded in the ecosystem to help companies build relationships in the post-cookie era, deliver personalization that goes beyond a first name and past purchases, engage prospects in more relevant ways and foster powerful relationships that drive the online advertising industry forward.
Get in touch with ReverseAds today to find out how your business can benefit from this new intent pricing model for your next online ad campaign.