ReverseAds Blog
ReverseAds Obtains a Granted Patent from USPTO for its Revolutionary Keyword Assignment Model for Online Advertising
September 23, 2021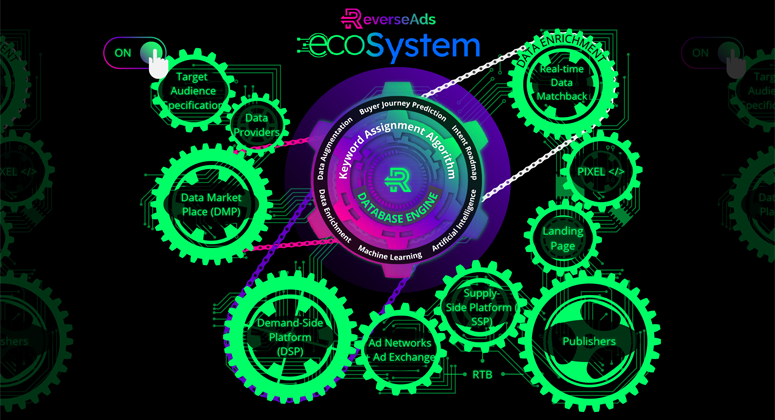 ReverseAds, an award-winning keyword advertising platform for the open web offering the first true alternative to Google Ads, today announces that the US Patent Office (USPTO) has granted the company's patent application no. PCT/US21/46961 directed to the keyword roadmapping framework as a product (systems, methods and devices for device identification and activity estimation in a computing platform).
The granted US patent no. 63/068,318, which is undergoing a final review, follows the "Technology Business Rules" Notice of Allowance that was issued on 20 August 2021 and protects ReverseAds' online advertising keyword roadmapping framework as a product. The patent, also covers the company's keyword assignment algorithm that precisely targets intent from the entire customer's purchase journey across all devices without collecting or storing any personal identifiable data.
The granted patent further strengthens the company's technology portfolio and extensive business potential.
"From the beginning, we recognized the importance of developing and then protecting our technology," said Michael Hahn, CEO and founder of ReverseAds. "As a pioneer in online advertising beyond Google and Facebook Ads, we know via real-world data and client retention rates that we were and are ahead of the curve. To have our revolutionary technology recognized by the US patent office is a source of pride for the entire ReverseAds team and should be very assuring to our clients, partners and investors."
Commenting on the tech startup's meteoric rise and ambitious product development strategy, Mr. Hahn said: "ReverseAds is looking to build an extensive portfolio of patents or patent applications covering all key business models and products while creating shareholder value, which will provide the company both the freedom to operate and significant product differentiation in the AdTech space."
The company has recently relocated its corporate headquarters to the city-state of Singapore in line with its expansion strategy to tackle the Asia Pacific market. Mr. Hahn added: "We also have a patent pending with the Intellectual Property Office of Singapore. Besides being part of a thriving startup ecosystem, ReverseAds has benefited from Singapore's triple-A rated economy and strategic location for business expansion as well as for investments to accelerate our business growth within an innovative online advertising landscape."
A Product that Outperforms Google Ads 3-to-1
Since 2017, the company has been working on advancing the capabilities of its patented AdTech algorithm to learn user content engagement, score purchase intent and assign winning keywords to specific devices. Built upon the ultimate integration of artificial intelligence technology and traditional keyword search advertising, its "Keyword Assignment Algorithm" radically improves the accuracy of digital advertising targeting while maintaining the highest level of user privacy.
ReverseAds patented keyword assignment model has consistently outperformed Google Ads 3-to-1 for considered purchase brands and allows marketers to serve hyper-personalized ads on the open web, where consumers are spending 66% of their screen time and are twice more receptive to online advertising. Using first-party data, the algorithm can also analyze device-level information across all modern browsers without being affected by any data privacy updates or cookie removals, like Apple's ITS or Chrome's third-party cookie blocking.
Among its many outstanding features, ReverseAds' keyword assignment algorithm collects and matches back anonymized data to predict from what stage consumers are at to where they will go next, without the illegal stalking of tracking technologies such as web cookies. And thus, enhancing search ad campaigns with personalized ads being served in real-time, and at the right time, for better conversion opportunities.
A Partner Program Like No Other to Scale Marketing and Advertising Agencies
With over 60 certified partners worldwide, the ReverseAds Partner Program offers marketing and advertising agencies the competitive edge of scaling their online ads beyond traditional search ad platforms, like Google. Agencies will benefit from its "Pay Per Intent" pricing model for better identification and breakdown of ad spend by paying only for quality traffic from conversion-ready visitors.
The ReverseAds Partner Program can provide agencies what no other partner program provides with its profit share commission arrangement that promotes the success of businesses along with customer-centric recommendations for a mutually beneficial long-term commitment.
Additionally, partners will be able to grow their business with up to 20% increased margin on total ad spend and enjoy other advantages such as a lower cost per acquisition (CPA) at double the results. With end-to-end support from sales cycle and campaign launch to satisfaction delivery, partnering with ReverseAds provides agencies the peace of mind and flexibility to scale their business to meet future online advertising challenges head-on.