ReverseAds Blog
Reverseads Relocates Headquarters to Singapore to Accelerate Regional Expansion
September 17, 2021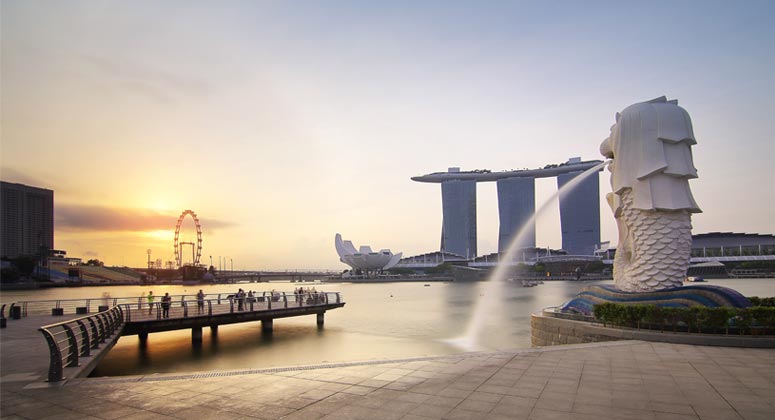 ReverseAds, a leading keyword advertising technology company offering the first true alternative to traditional keyword search advertising platforms serving both local and global businesses like SAP, Adobe, BMW, PHD Media, today announced the relocation of its headquarters from Phuket, Thailand to Singapore in order to accommodate the company's rapid growth and accelerate future expansion plans in conjunction with their USD$15 million Series A raise.
"Our new headquarters and accelerated product development will help us to strengthen our capacities to better support our clients' urgent needs and demand for our product and solutions, allowing us to provide exceptional value and superior service along the way," said Michael Hahn, CEO and Founder of ReverseAds.
ReverseAds' new corporate headquarters, ReverseAds Pte Ltd., is located in the center of the lively Clarke Quay neighborhood. The new headquarters will host the core units of its business, product and technology development, as the company looks to vigorously tackle the Asia Pacific market with a focus on Singapore, Australia and Hong Kong. This strategy is aligned with its mission to cultivate product development talent in the region to keep Singapore's tech industry's capabilities current with the speed of the changing landscape and evolving consumer demands.
Mr. Hahn adds: "By 2030, Asian economies are expected to be at least four times larger than they are today, and Asia's share of global output is expected to rise to 40% of the global total. Digital ad spend in Singapore is expected to grow annually by 7.91% and it is projected to reach US$1.3B by 2025. With Singapore's well-developed IT infrastructures, solid investment opportunities, favorable regulations and support for rising tech startups, we see this relocation as an advantageous next step of our business, and it will ensure the company is best positioned to continue delivering the highest quality advertising services to our APAC clients."
Boosting Singapore's Strategic Role as an Economic Powerhouse
According to Singapore's Economic Development Board, ReverseAds' relocation is aligned with the country's economic plans in expanding its tech talent pool to further boost Singapore's growth as a major global hub for business and investment, as well as opening doors to new financial opportunities and technologies with a strong emphasis on data security and privacy.
The company's assertive strategic presence in Singapore is projected to secure new businesses from international digital agency partners to local brands seeking progressive, privacy-first technologies to ramp up their online advertising such as the ReverseAds App which is built on a cookie-less tracking keyword assignment algorithm.
In addition to speeding up its market expansion, ReverseAds' new corporate headquarters will serve as a regional tech hub and talent pool to engage tech professionals, particularly Singapore-based talents, as the company rolls out its vigorous hiring strategy in the product, technology and business development sectors. Moreover, to help empower Singapore's next generation of tech talent, ReverseAds will work closely with local academic institutions to implement internship and work placement programs as part of its dynamic talent development strategy to boost local hiring and reskilling.
HSBC Singapore to Back Company's Accelerated Growth
In addition to its initial USD$4 million seed funding, ReverseAds recently added a USD$1.2 million line of credit pre-series A funding from HSBC (Hong Kong and Shanghai Banking Corporation) Singapore, a prominent player in Asia Pacific's financial services, to support the acceleration of its business growth. HSBC will also serve as the company's primary bank in preparation for its USD$15 million Series A funding raise.
With the ultimate integration of A.I and keyword advertising, ReverseAds will be ramping up the development of its product – the ReverseAds App – by advancing the capabilities of its platform and perfecting its patented state-of-the-art Keyword Assignment Algorithm, which will radically change online advertising preferences and expectations. From keyword and competitive research to targeting the ideal target audience and launching a campaign, the ReverseAds App is an all-in-one immersive advertising tool to launch successful keyword advertising campaigns with precise performance tracking.
It is one of many breakthroughs as the innovative tech startup continues to build the first true alternative to traditional search advertising, and cements its role as an industry disruptor by future-proofing online advertising beyond tech giants like Google and Facebook.
For further information, please contact:
Sasitorn Insitorn, Chief Marketing Officer | sasitorn.insitorn@reverseads.com | +66 63 0815945
About ReverseAds
ReverseAds is a keyword advertising platform for the open web, built to compete directly against Google Ads. The company reported a 700% revenue growth in 17 months and is now a leading AdTech company with more than 50 global partners and 140 active clients. ReverseAds offers a revolutionary digital advertising medium to marketers: the first true alternative to traditional search ads, competing against Google on a keyword-by-keyword basis. Instead of sponsored listings appearing within the search engine, above and alongside the search results, ReverseAds is everywhere after search with exponential conversion opportunities for considered purchase industries.