ReverseAds Blog
ReverseAds Wins Huawei Spark Ignite Thailand 2021 to Take on the Challenge of the Global Finals
October 4, 2021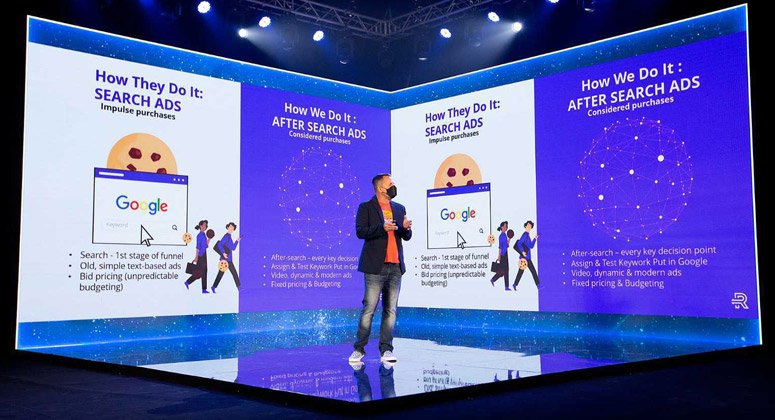 A Google Keyword Advertising Alternative startup wins the day and make a name for itself on the global stage
Viewed by an audience of over 200,000 on September 28th, Huawei's Spark Ignite Thailand 2021 (the second edition of the Spark Ignite Accelerator competition), ReverseAds, a Phuket-founded startup offering an alternative and cutting-edge keyword advertising platform for the open web, took to the stage among nine other finalists.
Organized by Huawei in collaboration with Digital Economy Promotion Agency (DEPA), National Innovation Agency (NIA), Kasikorn Business Technology Group (KBTG), TusPark WHA, and Zanroo, the event was designed to help Thai startups to scale to global markets as well as to support highly-skilled tech companies and resources in the country. These goals were developed with a key vision for digital transformation and economic recovery in the post-pandemic landscape, and aligned with Thailand 4.0, where startups are considered the key source of Thailand's strategic innovation.
The competition began with 20 startups that were shortlisted from a list of 500 applicants to receive further mentorship from leaders in the deep tech field across the span of four months. They were then shortlisted into the top nine to deliver their final pitch to a panel of distinguished judges, which included Mr. Leo Jiang, President of Digital Huawei Cloud Region Asia Pacific, Dr. Chawapol Jariyawirot, Managing Director of Huawei Technologies Thailand and Mr. Surasak Wanichwet Phibun, Chief Technology Officer Cloud Business Division of Huawei Technologies Thailand.
CEO and founder of ReverseAds, Michael Hahn, delivered a powerfully engaging pitch that effectively summarized the company's revolutionary business model, complex "Keyword Roadmapping Algorithm", and transformative business strategy – well within the time limit of seven minutes. The pitch encapsulated the essence of the company's product, which is built upon the ultimate integration of AI technology and traditional keyword search advertising, to precisely target intent from the entire customer's purchase journey across all devices. Outperforming Google Ads 3-to-1 in considered purchase industries, ReverseAds has radically improved the accuracy of digital advertising targeting in addition to maintaining the highest level of user privacy.
Innovative Thai Startups Using Smart Technologies
ZipEvent, a ticketing platform that allows customers to easily purchase tickets for both F2F and virtual events, was announced as the first runner-up, followed by the second runner-up, Chillpay, a new-gen online payment gateway that serves both corporate and individuals with various payment channels covering their business needs.
Among the many other remarkable startups worth mentioning is Zupports, a logistical tech company that supports SMEs by reducing transportation costs by up to 24% for delivering parcels abroad. Believing that everyone deserves the best technology for a sustainable and optimal future, BlockFint, a multi-dimensional energy trading platform, provides access for small-to-medium clean energy suppliers in Thailand to buy and sell Renewable Energy Credits (REC) and be part of a greener society.
FoodDee, a food ordering platform that brings together great restaurants from different locations into one application was another impressive contender while SnapPink, an online beauty app, impressed the audience with its 24/7 platform to help users find salons in their area as well as reading reviews, booking and rescheduling.
PolarBear100x, a crypto trading platform for global investors, develops financial robotics using AI technology to manage funds on decentralized finance networks. Meanwhile, ElysianNxt, a startup whose mission is to deliver finance and risk solutions that ensures profitability and compliance, is on a path to future-proof businesses against changing macroeconomic circumstances.
ReverseAds was awarded "First Place" and "Most Popular Vote" and went home with the top prize of USD 125,000 worth of HUAWEI CLOUD credits, which will incentivize its technological capabilities for exponential growth. This win follows on the heels of the company's trail-blazing momentum in its product development goals as it continues to make a name for itself in the global AdTech and startup ecosystem.
The company aims to be a unicorn startup, with US$1 billion in valuation, and become an alternative online advertising platform for all forward-thinking digital marketers within the next three years. ReverseAds will be eligible to participate in China's Huawei Spark Program, the Huawei Spark Fire Program, and the Spark Go Program, which aims to elevate the growth of tech startups in order to build a digital ecosystem.
Commenting on the exhilarating win, Mr. Michael Hahn said: "We will use the HUAWEI CLOUD credits to further develop our platform, particularly utilising AI to enhance our machine learning application and adding to our back-end infrastructure to support more users for our global service expansion." He added that a key accelerator of the company's business model is the ReverseAds Partner Program which offers marketing and advertising agencies a better-performing and more sustainable platform to grow their online advertising businesses.
Find out how you can guarantee your business growth from a partnership with ReverseAds.
More information:
https://www.bangkokpost.com/thailand/pr/2190175/spark-ignite-2021-%E2%80%93-thailand-start-up-competition-winners-announced
https://positioningmag.com/1353830
https://www.matichon.co.th/lifestyle/tech/news_2963474