ReverseAds Blog
ReverseAds Wins Tech in Asia's Virtual Pitch Night for Best Tech Product
July 7, 2021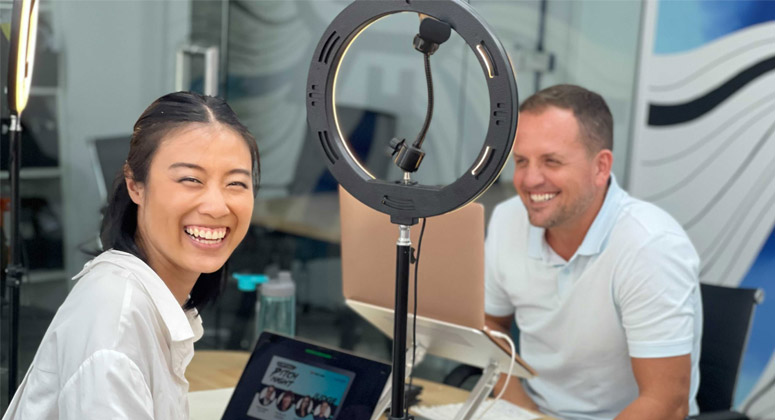 CEO's Pitch Impresses Tech in Asia's Panel of Judges
Hundreds of rising startups across Asia eagerly await Tech in Asia's annual virtual pitch night events. The latest event on 22nd June 2021 featured six finalists including ReverseAds.
Judges for the event comprised of a panel of accomplished industry leaders: Charles H Ferguson, General Manager from APAC Globalization Partners; Siew Chiun Tan, SVP, Group Channels and Digitalization, UOB; Brandon Chew, Vice President of International Marketing, EDB; and Pui Yan Leung, Executive Director, Vertex Ventures.
The event was inspiring in many ways as we saw startups from various industries across Southeast Asia pitching tech-based solutions to bridge major market gaps. From impressive deliveries to thought-provoking questions, it was an insightful evening to learn from like-minded entrepreneurs, regional movers and shakers and industry disruptors alike.
Based in Singapore, Kinexcs builds wearable medical devices to monitor the progress of patients undergoing orthopedic surgeries and helps deliver quality healthcare. Tujju Media, a production house in Indonesia, provides media localization to protect film productions, over-the-top media services and TV stations from piracy.
Z-waka, founded in Myanmar, is providing affordable high-quality healthcare for clinics in developing countries through their SaaS ecosystem. Headquartered in Singapore, Ocktolife's predictive health tech solution allows SMEs to park their employees' health benefits in a wallet to be customized across its platform's holistic insurance, wellness and lifestyle ecosystem. COCOTEL, a Philippines tech-hotel brand, and aggregator of getaway destination hotels, is providing small independent hotel owners affordable booking solutions with its management platform.

ReverseAds' CEO and founder, Mike Hahn delivered an engaging pitch on revolutionizing the digital advertising industry with the first true alternative to Google search ads through big data, AI, and predictive modeling. ReverseAds keyword roadmapping algorithm has consistently outperformed traditional search advertising 3-to-1 in considered purchased industries such as finance, SaaS, healthcare, and automotive.
In-depth solutions and success stories were presented as well as a product demo on the newly launched web app platform, an immersive all-in-one automated advertising tool for launching successful keyword ad campaigns. Both judges and the audience were impressed with the company's vision of providing privacy-first advertising solutions for forward-thinking brands as well as its mission to undo Big Tech's ad monopoly.
Apart from serving as a platform for startups to attract funding from keen investors, Tech in Asia's pitch nights offers international exposure and publicity for emerging startups in Asia. ReverseAds' win signaled the beginning of the company's growth toward becoming a unicorn startup and billion-dollar company.
Read the article on Tech in Asia: https://www.techinasia.com/reverseads-wins-tech-asias-latest-pitch-night