ReverseAds Blog
What is Cross-Channel Marketing?
December 1, 2020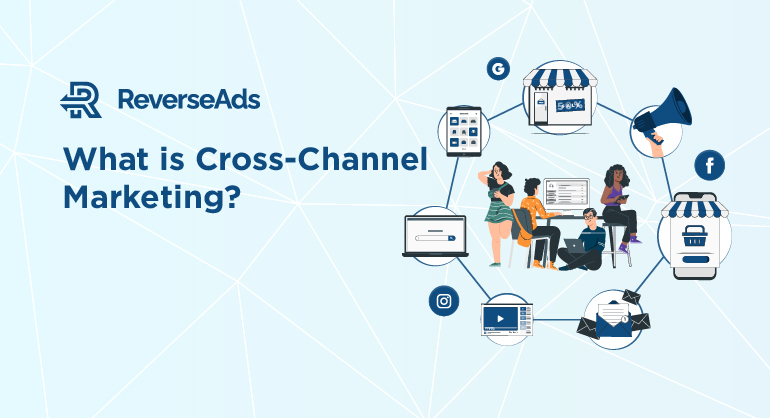 Keeping up with shifts in purchasing behaviour throughout the buyer's journey is increasingly difficult. Technological developments have expanded communication channels to the point where the average buyer now accesses 10 sources of information before making a purchase.
Consumers are demanding dynamic, consistent, and personalized experiences that brands must aim to satisfy. Therefore, businesses have become increasingly aware of the need for cross-channel marketing. Cross-channel marketing is a strategic, customer-centric approach that aims to provide customers with a seamless experience throughout their purchasing journey.
Cross-channel marketing strategies differ from traditional forms of marketing, as these strategies depend on all-inclusive data and centralized data handling. Whichever channel you choose to use, the key is to ensure that your customers are receiving a seamless, personalized experience across all platforms and devices that they interact with (both offline and online). There is immense growth potential when seizing new opportunities and ensuring customers receive the most relevant information exactly when they need it. The prioritization of a world class experience improves engagement, sales, brand loyalty and ultimately ROI.
Why Cross-Channel Marketing is a Necessity
Cross-channel marketing strategies are often deployed because they enable the creation of unique experiences that relate directly to where the customer is in their buying journey. These strategies deepen business's understanding of their customers through holistic datasets, helping to deliver advertisements that are more relevant to the customer. Ultimately resulting in a positive impact on purchasing decisions, leading to higher sales and increased brand loyalty.
Cross-channel marketing produces consistency across all channels through the utilization of comprehensive data, online user behaviour tracking, and an understanding of how each channel promotes the same messaging to elicit a positive response from the consumer. As a result, brands can connect better with their audience multiple times through the customer's preferred channels.
Cross-Channel Marketing Recommendations for 2021
Although cross-channel marketing provides significant benefits to brands, it is regarded as the most complex. Therefore, it requires a specific approach that may vary for each brand based on their goals and objectives.
Firstly, brands must ensure that they are taking a customer-centric approach, where the customer is the primary focus. This means making a conscious effort to understand who your customer is, including their purchasing behaviour, the channels they are most responsive to, and how they like to receive promotional information. This focus enables brands to build a more accurate customer profile and develop a deeper connection with their customer, increasing the possibility of a conversion.
Next, brands should collect, consolidate, and analyze data from all channels, forming a comprehensive data set. Collecting data on consumers provides insight on how customers engage with your brand and what their buying journey looks like. Additionally, collecting data enables brands to construct a detailed profile of their customer, which becomes critical when determining what information is relevant.
Following the detailed collection and analysis of data, brands should segment their market by grouping together individuals with similar profiles. Market segmentation can be based on a user's browsing patterns, frequently used channels, or specific shopping preferences. This allows brands to customize advertisements and target a larger volume of customers. Refining your target audience provides greater operational efficiency and can substantially drive sales.
After analyzing the consumer data and segmenting the market, brands must create personalized content that relates directly to a particular stage of the individual's purchasing journey. For example, a clothing brand might send out a personalized email to customers who are browsing on their website or retail app, using discounts on items that are similar to what the customer is searching for. This is a critical stage in the buyer's journey, as the personalized messaging 'nudges' the consumers in the right direction by potentially eliciting a positive response that would boost sales.
Lastly, it is essential that brands use key metrics to measure and track performance across all channels over time. These metrics gauge user engagement, and may include open rates for emails, the number of clicks per advertisement, and purchases made on a website. By tracking metrics, brands receive feedback across all channels and can adjust their strategy to enhance the customer's overall buying journey and experience with the brand.
The evolving consumer landscape and subsequent shifts in purchasing behaviour have facilitated the use of cross-channel marketing amongst top brands aiming to meet consumer needs. It has become evident that cross-channel marketing provides companies with various benefits that can positively impact sales. However, brands should be equally aware of the complexity of cross-channel marketing and the necessary steps that must be taken to maximize return on investment, drive sales and ensure the customer's experience is positive.